---
Transitional Style Finds a Home in Kettle Valley
The Village of Kettle Valley in Kelowna's Upper Mission is well-known for its beautiful traditional-style homes, but did you know that many of our homeowners in the new Highlands area of Kettle Valley are opting for Transitional homes?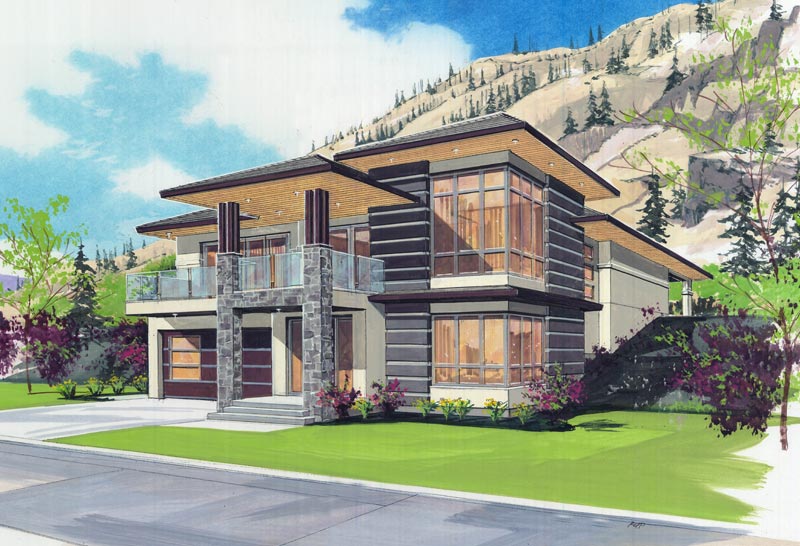 Transitional homes have been gaining in popularity over the last decade, and it's easy to see why. This design style is the best of both worlds. If you find modern too sleek and cold and traditional is too formal and dated for you, a transitional-style home may be the perfect fit.
A beautiful blend of modern and traditional, transitional homes typically offer modern style elements that are made warmer through the use of traditional materials and vice versa. If you've seen the homes in home decor magazines and on Pinterest, you will be familiar with this style.
Transitional home decor is typically represented by neutral colour palettes, simple lines, and warm woods. Think modern steel and glass light fixtures set against richly coffered ceilings or a mid-century modern wood frame chair next to a vintage-style, tufted sofa. Of course, a neutral colour palette demands some interest, and that's where textures come in. Transitional style is all about the clever use of tone-on-tone patterns and contrasting textures in fabric and materials to create interest in a room. Cream silk drapes may be paired next to a high-pile shag rug with neutral geometric wallpaper for added flair.
Because this design style strays away from extremes, the transitional home is welcoming and comfortable for everyone, no matter their gender or age. Best of all, transitional is a perfectly classic and timeless design, so your home won't become easily dated, saving you money on decorating costs down the road.
In Kelowna, a transitional home is a great option for a number of reasons. The real estate market in Kelowna continues to thrive and homes in the Upper Mission are highly sought after. While Kettle Valley hopes that every homeowner will be happy in their new home for decades to come, we know that isn't always possible and sometimes a move is necessary. Transitional homes appeal to a large variety of home buyers, so if you're thinking of future resale value for your custom-built home, you can't get much better.
Contact us to find out about
your options
for building a new custom-built transitional home in Kettle Valley's Highlands neighbourhood.