---
6 Benefits of a Walk-Up House Lot
Here at The Village of Kettle Valley, we are really excited about our newest neighborhood, The Highlands. The newest phase of our master planned community features some of the best views available in the City of Kelowna, with the added benefits of being within our friendly, picturesque, award-winning community. One of the greatest advantages of this particular neighbourhood is the abundance of "walk-up" lots available, allowing homeowners to custom build a home that suits their needs for years to come.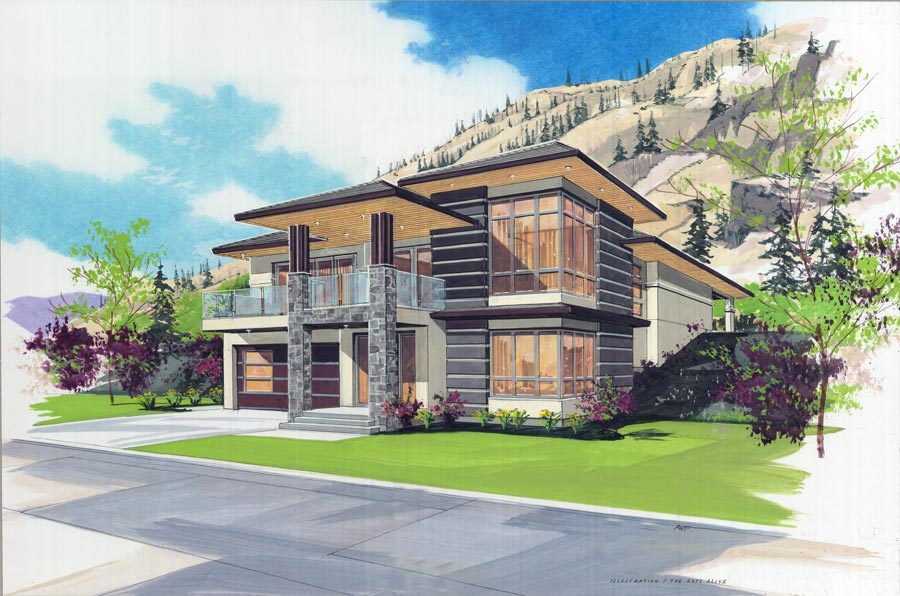 The Aria Homeplan is a brilliant example of a Walk-up floor plan that makes excellent use of main floor living space
When we talk with people about walk-up lots, one of the most common concerns that we hear is that they don't want to carry their groceries up the stairs. But while there only seems to be one complaint about walk-up houses, there are so many advantages that homeowners are unaware of.
Main Floor Living
Once you are on your main floor, you have easy access to most of your indoor living space and all of your outdoor living spaces. With a main floor that is level with your outdoor space, you have everything you need, all on one level. This is in contrast to a home with a walk-out basement, where you need to navigate the stairs to access your backyard living space.

Easy Pool Access
With a walk-up, you don't have to navigate stairs to get to your pool area as you would with a walk-out. Your pool access is directly available from your main floor, making it easy to host pool parties, or head straight from your master suite to the pool for a morning swim.

A Larger Main Floor
Because your garage is not part of your main floor area but rather under your main floor, you have the ability to develop a larger main floor plan. This now allows you to design features like extra bedrooms on your main floor. Alternatively, you could use the extra space in the floorplan for fun spaces like a theater room, games area or wet bar. All of which are accessible from your main floor. In a home with a walk-out basement, these rooms would be located downstairs, so you may not use them as frequently.

Because the garage is located under the main floor of The Aria, you have additional space for a larger Master suite.

Peace of Mind for Young Families
Children that are playing in a backyard of a walk-up home are within view of the main floor. Depending on your floorplan, you will likely be able to see the kids playing while you make dinner, adding a little extra piece of mind. This is particularly important if you have a swimming pool installed in your yard.

With a walk-out home design, you typically can not view large portions of your yard from the main living area. This is particularly true if you have a deck off your main floor, as it further impedes your view of children playing in a back yard. Most homeowners need to walk out to the deck rail in order to spot children playing closer to the house.

Ease of Entertaining
They say that the kitchen is the heart of the home, and if you entertain a lot, you will know that people inevitably gather around, even when you don't intend them to. With a walk-up home, your living spaces will be on one level, giving you easy access to the backyard space and the kitchen. Entertaining and feeding your guests from one level makes for a more enjoyable experience as you don't have to carry food and beverages down to your lower back yard. Over the course of a day that is a lot of up and down stairs!

More Cost Effective to Build
Since your garage is not an extension of your main floor, but rather under your main floor, this makes for a more compact build resulting in substantial savings.

The basement of a walk-up house offers additional bedrooms and plenty of space for family living.
If you can't get past having to carry groceries upstairs you always have an option to include a lift system or elevator when planning your home. A dumbwaiter residential lift system for groceries would start at $4,500 and a wheelchair accessible elevator for your home starts at $28,000 for two floors with an additional $2,000 added for each floor.
Even if you don't see a need for a lift or an elevator system now, you may want to consider planning that option into your home design. We never know what the future will bring, especially when it comes to health concerns, and many of the residents in Kettle Valley intend to stay in the community well into their old age. Having the option to install a lift system or elevator at some point will definitely extend your ability to stay in your home if navigating stairs becomes an issue, no matter whether you settle on a walk-out or walk-up lot plan.
To learn more about the walk-up lots available in The Highlands at Kettle Valley or to see more home plans, please contact our team at the Discovery Centre.