---
Activity Spotlight: The Kelowna Paddle Centre
From hitting the slopes in the winter to heading out on the lake in the summer, there is no end to the fantastic activities available to Kelowna residents. We really are very lucky to call this beautiful city home!
One of the many activities that you can do here in town comes via the Kelowna Paddle Centre. The Kelowna Paddle Centre is Kelowna's destination for all things paddle sport. Whether it is canoeing/kayaking, paddling outrigger canoes or standup paddleboarding, the Kelowna Paddle Centre has something for everyone. There's even standup paddleboard yoga happening in Kelowna… talk about a core workout!

(Photo: Kelowna Paddle Centre) SUP Paddleboarding is one of the fastest growing sports in Kelowna and offers fun for all ages.
As you may have noticed, paddle sports seem to have experienced a surge in popularity in recent years, and if the thought of paddling out on the water on a hot summer day is something that appeals to you, the Kelowna Paddle Centre has got you covered.
The Kelowna Paddle Centre is located at 3050 Abbott Street - nice and close to the lake, and to the Village of Kettle Valley. Annual memberships are open to all ages and the Kelowna Paddle Centre is eager to make paddling accessible to residents of Kelowna and other local communities.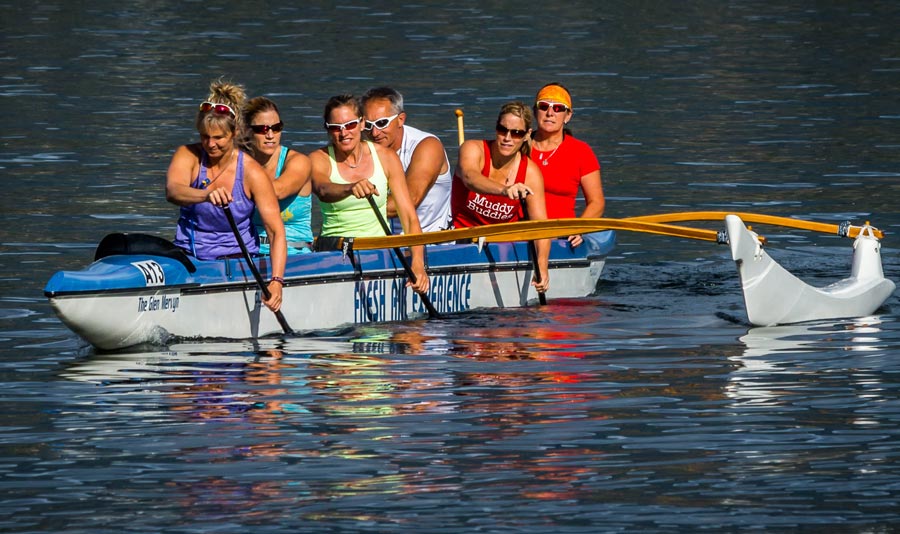 (Photo: Stephen Wells, Village of Kettle Valley) Paddle sports continue to gain popularity in Kelowna and are an excellent way to make new friends, have fun, and stay active.
The disciplines that fall under the paddle sport definition have varying histories and with their recent rise in popularity and accessibility, they are attracting a diverse range of enthusiasts of all different skill levels. Whether you're already a Kelowna resident, or you're a future Kelowna resident, add paddling on Okanagan Lake to your must-do list!
You can learn more about the Kelowna Paddle Centre by checking out their website.
Did you know?
Canoer Verlen Kruger (1922-2004) is in the Guinness Book of World Records as the person who has paddled the greatest distance (total) of anyone. During his lifetime, he paddled some 160,000kms, and he didn't even start paddling until he was 41!